Welcome to DEVINELEA LABRADORS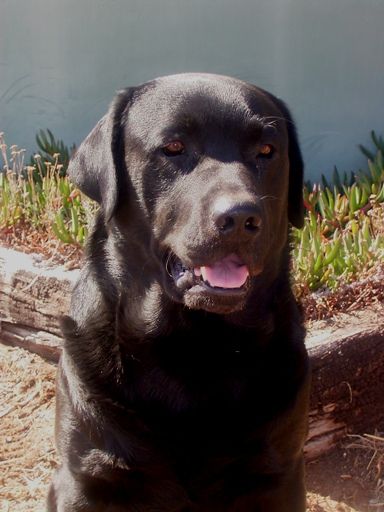 "SAILOR"
Our objective is to breed true to type, temperament, structuraly sound healthy well socialised lovable Labradors. That are capable of undertaking any task that is set them, e.g tracking, field work, therapy dogs, showing, obedience or as a much loved family member. They fit in well to family life, be it playing with the kids or having a muched loved cuddle on the couch with the adults. Labradors are very affectionate easily trained and are eager to please.
We have always had dogs in our lives. Ben's love of Labradors started as a kid, the family had a Black Labrador Retriever named "ROY". Between us over the years we have had the pleasure of having several different breeds as our much loved family companions before we settled on the Labrador Retriever. We had St Bernards "Helga and Berni" Great Danes "Choppers and Duke" "Cleo" the Basenji, a Rottweiler named "Benji" our Alaskan Malamute "Keeta" "Bessie" the Kelpie along with "Minnie" a Fox Terrier and of course our much loved German Shephards "Leo and PJ".
The last 28+ years we have had the pleasure of having Labrador Retrievers. We took up showing and breeding this wonderful breed 20+ years ago, at the same time we were succesfully breeding, racing and showing both Thoroughbred and Standardbred horses, something we have now retired from, although we still have a few retirees in the back paddock. This gives us more time to spend with our beloved Labradors. Our holidays consist of camping at a lake or somewhere quiet along a river where our Labradors can come away with us and also enjoy themselves. Our Labradors are a very much loved part of our family and live a happy and idyllic life on our rural property in Western Victoria a couple of hours from Melbourne.
Our present family of Labradors:-
"ARTIE" Australian Champion and Australian Neuter Champion Jollab Winchester
(AI)
Dogzonline Pointscore Competition.
2019 - No 1 - National Neuter Labrador Retriever
2019 - No 1 - N.S.W. Neuter Labrador Retriever
2019 - No 3 - N.S.W. Neuter in Gundog Group
2018 - No 2 - National Neuter Labrador Retriever
(with limited showing)
"MAGGIE" Australian Champion Jollab Perazzi
(AI)
"ZIVA" Australian Champion Devinelea Flanders Fields
"GIBBS" Australian Champion Devinelea Anzac Cove
"ELLIE" Australian Champion Devinelea Jive Talking
"ABBY" Australian Champion Devinelea Maleficent
(AI)
"KENSI" Devinelea Stares and Whispers
(AI)
"GUS" Kirkdell Australian Idol
(AI)
Devinelea's current show team:-
"ARTIE", "GUS", "KENSI" and "ELLIE".
Showing is something we really enjoy, it gives us a great excuse for a weeknd away camping with our Labradors, along with catching up with friends who enjoy the same things, people we would not have met if not for the dog world.
We said goodbye to our old mate "Sailor" at 13.5 yrs.
And our very special girl "Yoda" at 11.5 yrs.
We have so many fond memories of our time with them and miss them dearly.
We thank the following people for their advice, time and friendship over the years.
Geoff Jolly:- JOLLAB Labradors
Jane and Clive Kibble:- CURLBROOK Curly Coated Retrievers
Jan and Gavan Farrelly:- JAYEFFE Labradors
Bev and David Jones:- KIRKDELL Labradors
Gary and Liz Lovell:- LOVEWYRE German Wirehaired Pointers
Contact Details
B & R van Maanen
Stawell, VIC, Australia
Phone : 03 53573254
Email :
[email protected]
48649 Visitors